New Work
2019
Get out of here!

16" x 8" x 4"

RainWoman

18" x 6" x 4"




Jack Ass

20" x 8" x7"

Chanukiah: The Woman who Saved Her Tribe

14" x 8" x 8"

Hunger

14" x 14" x 10"

Facemelt

12" x 10" x 10"


Cup #1

3" x 3" x 3"


Cup #2

3" x 3" x 3"


Cup #3

3" x 3" x 3"


Cup #4

3" x 3" x 3"


Vessel #1

8" x 2" x 2"


Vessel #2

12" x 12" x 8"

Thems

3" x 1" x 1"

Globe #1

4" x 2" x 2"

Globe #2

4" x 2" x 2"


Globe 3

4" x 2" x2"

Globe 4

4" x 2" x2"

Globe 5

4" x 2" x 2"

2018

28

27

26

25

24

23

22

21

20

19

18

New Work

2017
New Work
2016
| | | |
| --- | --- | --- |
| | | |
| | | |
| | | |
| | | |
| | | |
| | | |
| | | |
| | | |
| | | |
| | | |
| | | |
| | | |
| Witch's Earth | Witch's Fire | Witch's Water |
| | | |
| | | |
| | | |
| | | |
| | | |
| Raku Drawing 1 | Raku Drawing 2 | Raku Drawing 3 |
| Cloud | The Sky is Falling | Mother Pain |
| Bliss | Bird | Red Boots |
| Claws | Neat | Groving |
| Things | Yoga the Lotus | |
2015
2014

Black and White Flight

Black Flight

White Flight

Sponge Lady

Sitting on Driftwood

Replete

Shino Raku and Black Seed

Black Seeds

More Seeds

The Observer

The Joker

Metamorphisis

Yes No

Persimmons

White Sentinels

Cassius Clay Boxes

Birds

Head Beads

Raku Box

Raku Treasure Box

Wonky Box

Black Box

Dot Box

Buttons

Warrior

2013

Harpy

16" x 8" x 6"

(Low fired paper clay, oil stains and encaustic)

Sold at ARTSPAN 2013

Four Generations ... Life Goes On

12" x 20" x 6"

(Low fired paper clay, majolica, stain)

Happy Harpy

22" x 8" x 6"

(High fired paper clay, undergalze)

ronin-2 (7" x 2" x2")

(Porcelain, Stain)

ronin-9 (6" x 2" x2")

(Porcelain, Stain)

ronin-7 (6" x 2" x2")

(Porcelain, Stain)
---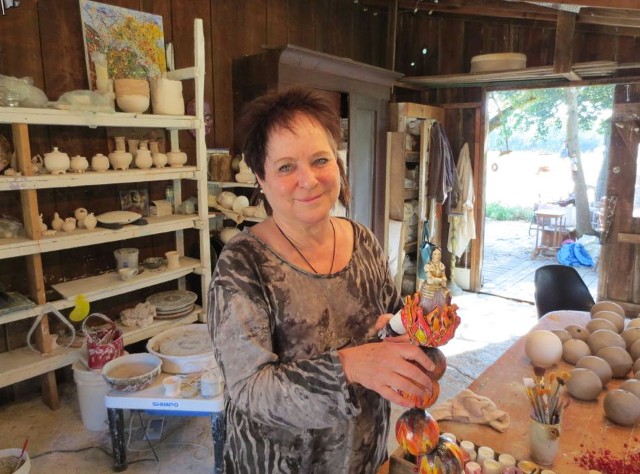 Be careful about the stories you tell; they will be the stories you live.

I spent my professional life as an academic and a practicing psychologist. During this time, i swallowed a multitude of human stories.

Five years ago I retired into clay as a means of bringing some of these universal human stories back into 3 dimensions; essentially, i am claying my own life experiences and giving volume to the narratives I collected from a life time of 'people work'.

Overall, I create ceramic groups; be they Blamers, Gossipers, A murder of Crows, or Dead Belles, my pieces capture the dance of group dynamics that would resonate with and be important to most people.

My main interest is to produce synergistic multimedia installations that 'speak' to central human interactions and suggest a way to ameliorate them. I work from very large to very small and I perceive everything i make as an experiment.

My general goal is to create a visual narrative that evokes recognition, touches a common node of humanity and provides a talking point for change.

My greatest challenge thus far has been the quest for the right kind of 'skin' over my pieces; I have, for now, settled on Raku or encaustics.

And finally, bottom line? I am deeply devoted to the process of creativity and I want to have fun!
---
mia: 4crone@gmail.com